About Your Laredo Electrician, RPi Electric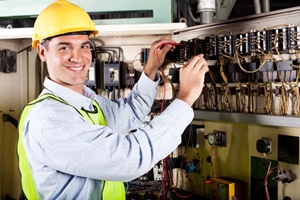 At RPi Electric we specialize in electrical repairs for all residential and commercial properties across Laredo, TX. With over 25 years in the business, we have the experience and skill needed to perform all types of electrical jobs both large and small. Our expertise ranges from full electrical repairs and upgrades to brand new installation and remodeling services. We also offer specialized services and products such as generators, electrical panels, surge protection, smoke detectors, ceiling fans, and so much more. We are Texas certified and licensed in all areas of electrical work and can even do industrial level repairs, installation, and networking. Whenever you need a Laredo electrican, remember to give the experts at RPi Electric a call to get the job done right. Contact us today and let us help you with your next electrical project.
Complete Industrial & Commercial Electrical Service
We offer electrical service for all commercial and industrial properties in Laredo. Our entire team of commercial electricians are specifically trained and qualified for all types of businesses and industrial properties that range from small shops all the way to factories, warehouses, and corporate buildings. We do everything from brand new electrical wiring, to full panel upgrades, replacements and re-wiring. We can work on all major industrial and commercial electrical systems and equipment, and have both the manpower and equipment to do any job in an efficient manner, so that you can get back to running your business.
We Do Full Electrical Remodeling
In addition to offering expert electrical repairs in Laredo, TX, RPi Electric also offer complete electrical remodeling for your kitchen and bathroom. Although electricity is the most important component in any room in your home, it's often overlooked during renovations. Often times new appliances and equipment are brought in with electrical upgrades or re-wiring being an after thought. We recommend consulting with one of our Laredo electricians in order to redesign your electrical system including the wiring, all outlets, and even a panel upgrade. We can help you rewire your entire kitchen or bathroom and give your electrical system a fresh start! This will save you time and money down the road, while ensuring you're electricity demands are being meet safely and according to code.
Dependable Laredo Electricians You Can Trust
At RPi Electric we have built a reputation as a leader in the electrical industry. Our Laredo electricians work hard to deliver the highest quality products and superior service anywhere in our service areas. We are dedicated to providing you with 100% satisfaction with every project we undertake. We offer flat rates on all electrical work, and give you a full run down of all expenses before we ever start the job. We also offer 3 year warranties on all work down. Our Laredo electrical contractors perform every job in a manner that is efficient and dependable. No matter what your electrical needs are, you can depend on the team at RPi electric to get the job done right the first time, every time.
Our Laredo Electricians Offer the Following Services:
Recent Articles from Electricians in Laredo, TX
Whether it's a severe storm during the summer or snow piling up outside in the dead of winter, you need backup whenever the power goes out in your home. The most practical solution is a home generator. Generators can provide enough power to run anything from a toaster to an entire home. Which type of generator is best for your home... Read More

It's really simple. Surge protection provides ultimate for defense for all your electronics from spikes in your home's wiring system. It doesn't matter whether you own a home built in 1937 or getting ready to build a brand new home, surge protection can and will happen eventually. Read More
If you would like to know more about your Laredo electrician then please call 956-796-1003 or complete our online request form.