Bathroom Remodeling in Laredo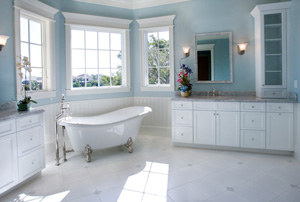 No bathroom remodeling project in Laredo is complete without a full inspection and upgrade of your home's electrical system from RPi Electric. Our entire team of experienced professionals can provide full electrical installation, replacement, and repair for bathroom remodeling in Laredo, TX. We are state licensed Laredo electrician certified in all areas of electrical work. Our entire team of electrical contractors in Laredo, TX have extensive experience and can handle all jobs for any room in your home, especially the bathroom, where moisture can pose a problem. Contact us today to set up an on-site inspection. We provide fast, affordable bathroom remodeling electrical services in the Laredo area.
Professional Bathroom Remodeling in Laredo
When it comes to electrical work for bathroom remodels, it's essential to hire a professional for the job. There are numerous things that could wrong and also the chance for disaster or injury if you hire an amateur who doesn't know what they're doing. This is why only an experienced professional should do the work. At RPi Electric, all of our electricians have the type of experience and training that can handle all room in your home. Bathrooms are unique, because they not only have specific wiring to handle the activity, but you are also surrounded by water. All repairs, installations, and replacement, has to be carried in a manner that is safe and efficient without the danger of electrocution.
Upgrade Your Old Electrical Wiring
If you live in an older home and have never had a wiring inspection, then chances are the electrical system in your bathroom is old and outdated. Have you had trouble with your hair dryer or other electronics tripping the breakers or not working properly in your bathroom? Chances are you need new electrical wiring for your bathroom, and potentially a panel upgrade, depending on the age of your home. Old wiring doesn't carry current as efficiently as new wiring, and cannot handle the power needs of modern appliances. When you upgrade the wiring in your bathroom, you create a safer environment, and also distribute electricity more efficiently. This helps you conserve energy and, in turn, lowers your utility bill each month. You'll experience greater savings with modern wiring. Get a point by point inspection today for your bathroom renovation from a certified Laredo electrician at RPi Electric.
Laredo Bathroom Remodeling: We Provide Complete Service
With RPi Electric there's no need to hire multiple companies in order to get the same amount of work done for your bathroom remodel in Laredo. We cover every area of electrical work for bathroom remodeling, including re-wiring, new electrical wiring installation, implementing new outlets and switches into the walls, re-routing your electrical system, and updating your wiring and outlets in order to match your new appliances. If we have to dig into walls to replace the wiring, our Laredo bathroom remodeling specialists then perform full wall repair and have your room looking like new again. With one company you'll save time, money, and the hassle of trying to find several contractors for your project. Don't miss an essential step during your bathroom renovation. Upgrade your wiring with RPi Electric today.
Our Personal Guarantee for Bathroom Remodeling Electrical Work
We have built a reputation as a Laredo electrical services company that home owners can trust to provide all their electrical needs. We work closely with each client in order to provide the highest level of customer service and satisfaction anywhere in the Laredo area. We offer service that is affordable, fast, and dependable. When you want to the get the job done right every time, then hire RPi Electric. We are the bathroom remodeling specialists!
If you are looking for an electrician for electrical work during bathroom remodeling in Laredo, please call 956-796-1003 or complete our online request form.