Quality Ceiling Fans in Laredo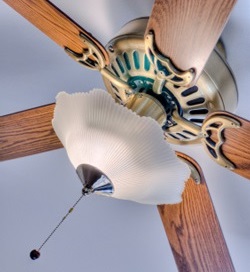 The greatest benefit to installing a ceiling fan in your home is that it makes a great supplement to your air conditioning system. Simply put, ceiling fans circulate warm or cool air throughout the room. Laredo ceiling fans can be implemented in any room in your home.
With a variety of styles, colors, and accessories they accent any room environment and make a great centerpiece. In a bedroom setting, a ceiling fan create a peaceful atmosphere that is quiet and relaxing. If you have a backyard porch then ceiling fans create a serene setting.
Mounting the right ceiling fan involves more than creating an attractive environment. It's about choosing a product that is efficient and effective in every room. At RPi Electric, we can help you by providing proper installation, repairs and ceiling fans in Laredo, TX. Just give us a call, and one of our experts will be happy to assist you.
Room Dimensions & Ceiling Fan Installation in Laredo
When investing in a new ceiling fan consider the entire room area. The main component is the height of the ceiling from the floor. Although the ideal height for any room is 8 feet, not all homes are the same. A higher ceiling will require a more powerful fan with larger blades. While smaller rooms may need smaller fans with shorter blades. Make sure that the fan can circulate air throughout the entire area without breaking a sweat. If the fan is too big or too small it will operate inefficiently in either case. Before contacting an electrician in Laredo, TX at RPi Electric, take some measurements of the room.
Various Mounting Options for Ceiling Fans in Laredo
There are essentially two different ways to mount a ceiling fan. A flush mount is appropriate for rooms with lower ceilings and smaller areas. They require no additional parts or accessories in order to keep them vertically aligned. The other main type of mounting is a downrod mount. These are designed for rooms with higher ceilings that extend beyond 8 feet. Most ceiling fans in Laredo incorporate a standard downrod that comes in the package. But you may need to replace it with a rod that is more suitable for the size of the ceiling and the room.
The Right Blade for Your Room
Although most homeowners think that blades are designed to push air, most fan blads are actually designed in order to aesthetically pleasing. Blade positioning is what determines how much air is pushed around the room, so feel free to consider design and style as much as functionality. Tired of looking at the same blade design? Fortunately, many ceiling fans today come with reversible designs and styles that can be rotated. Something else to think about is the number of blades incorporated into a ceiling fan. For more information on this or our other electrical services in Laredo for residential and commercial properties, call RPi Electric's friendly staff today.
Laredo Ceiling Fans: Styles & Features
One of the great benefits of ceiling fans is that are available in an almost endless array of styles, designs, and colors. The come with great modern features such as adjustable speed, reverse airflow, and even fully programmable controls either on the wall or by remote. Ceiling fans can be made from alabaster, seeded or frosted glass, and trimmed with everything from bronze and nickel to pewter and wood. The most popular feature with ceiling fans is lighting which opens up a whole new world of options.
If you need a Laredo ceiling fans installation or repair expert, please call 956-796-1003 or complete our online request form.