Your Source for Industrial & Commercial Electrical Services in Laredo, TX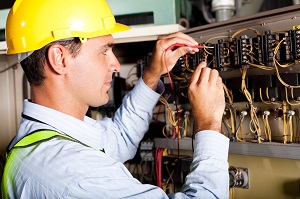 When it comes to industrial and commercial electrical services in Laredo, TX, RPi Electric's experts have you covered. We understand that electrical services are a very crucial part of any business. Our trained and professional commercial electricians in Laredo, TX are there to help your business run as properly and efficiently as possible. Since commercial electrical work is such a dangerous field, it is important to hire a professional crew of Laredo electricians that are able to help you in every facet of your business. There are many ways that our Laredo commercial electrical services can be vital to your business. Plus, our services are all backed by a 1 year warranty on commercial and industrial work, allowing you to rest assured that the work will be done right!
Experienced & Professional Laredo Commercial Electricians
Running a commercial or industrial building requires upkeep that most people who are untrained in the electrical field cannot handle. One of these things is the rewiring and installation of a new wiring system throughout the commercial property. These skilled Laredo professional electricians are able to plan out, lay, and install all new wiring systems throughout the commercial property both cost effectively and properly. While the initial work of installing a new wiring system in your property can be complicated, monitoring the upkeep of this complex wiring system can be just as complex. These crews of trained commercial electrical contractors in Laredo are not only capable of completely installing these systems, but are also able to maintain the proper upkeep as well, making sure you are never without power, especially when you need it the most.
Why Hire Us for Laredo Commercial & Industrial Electrical Services
Another bonus of hiring a professional Laredo commercial electrician is that they are able to help you run the commercial property properly as well. The installation of an electronic control system allows you to help run your commercial property and everything that goes along with it on your own. Once you have been properly shown what it takes to run your commercial property, they are able to help you control and monitor everything that goes into all on your own. This not only helps your property run the correct way, but in a cost efficient way to you as well.
Our Full Spectrum of Commercial & Industrial Electrical Services
Repair, Maintenance and Installation Services
Lift Station Controls
Thermal Imaging Inspection
120/208/240/277/480 Volt, single and 3-phase systems.
Conductor Insulation Testing
Step-up/Step-down/Buck-Boost Transformers
Exhaust/Ventilation Fans
Circuit Identification/Tracing, Breakers and Fuses
Motor Preventative Maintenance
Disconnect Safety Switches
Disconnect Safety Switches
Hazardous Location Installations
Lighting & Building Planned Maintenance Plans
If you need a commercial electrician in Laredo, TX qualified to do industrial and commercial electrical work, please call 956-796-1003 or complete our online request form.