Reliable Electrical Repairs in Laredo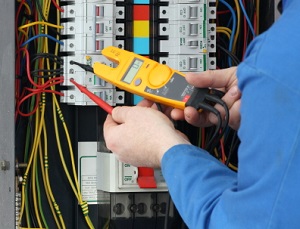 Professional electrical repairs in Laredo, TX are our specialty at RPi Electric. Our licensed and reliable Laredo electricians are there to fix your electrical problems before they worsen and endanger you. Our trained electrical repairs professionals specialize in all sorts of electrical services, offering much more to a home than fixing an electrical problem. From trouble shooting to replacements, our electricians in Laredo, TX can improve your electrical wiring and upgrade you to the best quality of lighting. Whatever your electrical repairs request may be, a professional electrician from RPi Electric can help you within a matter of minutes.
The Pros for Laredo Electrical Repairs
From flickering lights to faulty outlets, our team of professionals can take care of any need for electrical repairs in Laredo, TX. Speaking of lights, you may be one of many people seeking new lighting in your home. There are many types of lighting our Laredo electrical services company can install for you. They can install track lighting to an area of your home to create a new and improved look that lights up the area in a way you haven't seen before. Track lights can come in all shapes and sizes to suit your personal style. You may also choose lighting from a chandelier that will add class and elegance to any room it is placed in. In addition to these, you may simply choose to install lights sporadically throughout your home in areas you wish to accent and draw all newcomers' attention to. Regardless of the type of lighting you want to upgrade in your home, a professional can handle the job without leaving unwanted wiring visible to its audience.
Other services our Laredo electrical repairs team can perform include simple upgrades of wiring throughout your home. You might have a room in your home that does not receive electricity and needs new wiring to ensure that the electricity will work again. Our specialists can have every room in your home running electricity through them by the end of the day. Even those rooms lacking power outlets can be upgraded with more outlets with no hassle. From breaker upgrades to new power box updates, RPi Electric covers it all. For more information about our services, or to schedule electrical repairs in Laredo, TX for your home or business, please call us today.
If you need electrical repairs in Laredo, please call 956-796-1003 or complete our online request form.