Professional Kitchen Remodeling in Laredo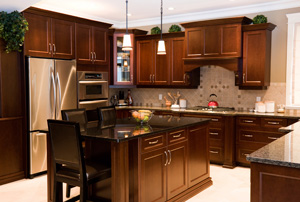 Getting ready to renovate your kitchen? Our Laredo electrical contractors can help. With several years of professional industry experience, we are Laredo's premier electrical services company. We provide complete rewiring services throughout your entire kitchen. Our kitchen remodeling electrical service is fast and affordable, and we provide the most dependable work anywhere in the industry. Our entire staff is licensed, certified and highly trained in all areas of electrical work. We can handle all Laredo kitchen remodeling jobs both large and small. We also work closely with each of our clients in order to insure their absolute satisfaction. For a free estimate for your project, contact us today. We can schedule an on-site visit in order to assess your personal needs for kitchen remodeling in Laredo, TX. From kitchen wiring to installing new lighting and appliances, you can count on RPi Electric for all your kitchen remodel's electrical work.
Laredo Kitchen Remodeling Tip: Hire a Wiring Expert
Rewiring should always be performed by a licensed electrician in Laredo, TX that has extensive experience. With all the hazards associated with kitchen remodeling electrical work, one wrong move could end in disaster or injury. At RPi Electric, our Laredo electrical contractors perform all kitchen renovation jobs safely and methodically in order to avoid all the pitfalls and problems that could occur. All of our electricians are insured and protected, too, for your safety as well as their own. We use the most advanced technology and equipment on the market in order to perform every job quickly and install all electrical wiring according to city and state codes. With RPi Electric you can feel confident that your kitchen remodel's electrical work will be done right every time.
Comprehensive Kitchen Remodeling Electrical Service
There are numerous electrical components in every kitchen. Refrigerators, microwaves, dishwashers and other appliances all utilize energy. When you combine that with lights and other kitchen features, there's a lot to think about. Our Laredo electrical services company can bring all the elements of your kitchen together to provide a cohesive electrical system which can provide all the power that all your electrical devices will need. Need additional outlets? We also install outlets and switches needed at all points throughout your kitchen. When you choose RPi Electric for your Laredo kitchen remodeling needs, you'll get complete kitchen electrical wiring services that meets all your needs.
Save Energy with New Wiring & Kitchen Remodeling in Laredo
Want to lower your energy bill every month? The call us for an inspection of your home's electrical wiring. Since your kitchen utilizes a lot of electricity, having the most up to date wiring in your home that can effectively handle the flow of electricity is a wise investment. We offer full point by point inspection of all the wiring in your home and kitchen in order to insure that everything is working properly, and that your electrical system can handle your new kitchen renovation. We can then make suggestions on how you can install a more efficiently flowing system. The result is a better electrical network that is safer and saves you money each month.
If you need an electrician for your Laredo kitchen remodeling project, please call 956-796-1003 or complete our online request form.