Innovative Landscape Lighting in Laredo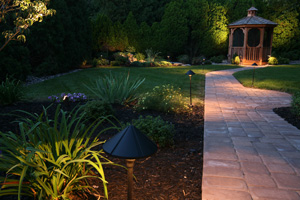 Nothing helps your landscape stand out quite like decorative lighting. With landscape lighting in Laredo, TX you can choose from a endless variety of options that are perfect for your home or business. At RPi Electric we offer complete landscape lighting installation service in the Laredo area, and help you through every phase of your project from start to finish. You'll enjoy our fast friendly service, our dependable, hassle-free work, and our competitive rates for landscape lighting installation in Laredo. We only use products of the highest quality from reputable manufacturers in order to give you the results that you're looking for. Contact a Laredo electrician at RPi Electric today, and let us help you launch your next outdoor lighting installation project.
Enhance Your Landscape with Brand New Lighting
One of the benefits of lighting is that you can put your creativity to the test in order to come up with a completely unique design that truly accents every feature of your landscape. So whether you're looking to highlight your newly installed pond, light up your greenery, or provide safety lighting for your backyard pool, we can help you come up with the right lighting every time. No matter how simple or complex your ideas we can deliver a lighting product that you'll be happy with. There are dozens of features and accessories for modern landscape lighting include fully programmable panels and remote controls.
Commercial Landscape Lighting in Laredo, TX
Do you own a business in West Texas? One of the best ways to attract new clients at night is to provide landscape lighting around the outside of your property. Landscape lighting gives your a business a professional edge and lets people driving by know that your business is either open or exists. It gives your front lawn a unique appeal and helps to separate your business from all the others. We work with business owners all across Laredo in order help them design contemporary landscape lighting that reflects their business image. Let our company help your business stand out today with landscape lighting and our expert electrical services in Laredo, TX.
Take Advantage of Low Voltage Lighting
If you don't about low voltage lighting, then now is the time to explore all the advantages that low voltage lighting concepts have to offer. The main benefit of low voltage lighting is that its low voltage allows the filament of the light bulb to be smaller, and this allows home and business owners to install lighting in smaller areas. A good example of this in around plants on either side of a walkway or sidewalk. This way you still get a safe walking area without having to use big lights that can often be more of a distraction than an accent. Low voltage lighting can produce the same amount of lighting, and yet be tastefully installed as a great feature to any smaller area.
Laredo Landscape & Security Lighting Options
One of the great side benefits of landscape lighting in Laredo, TX is that it also provides a great option for security around your home. If you have darker areas that you want be exposed, we can install security lighting specifically for that purpose. With security lighting you can get the best of both worlds that includes both function and aesthetics. Contact our Laredo landscape lighting installation contractors today and let us help you find the right security solutions for your home or business.
If you are interested in installing landscape lighting in Laredo, please call 956-796-1003 or complete our online request form.