Trusting Homes to Laredo Electricians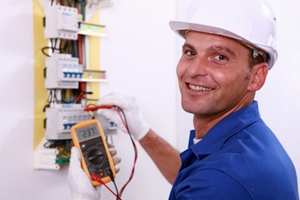 A lot of fires are caused by short-circuits and electrical problems. So for home improvement projects, always look for a licensed Laredo electrician to ensure the safety of homes and of people living on it, rather than opting for DIY electrical repairs and installations. One responsibility of Laredo electricians is to prepare the electrical installation layout plan of a house especially if it is newly built. The elctrical contractor must prepare the new wiring installation and check the wiring facility for repairs. Licensed Laredo electricians also maintain electrical systems to avoid future damages, risks and problems. They respond to reported emergencies and power outages, and even work with the electric power industry and many other sectors in preventing electrical hazards like jumpers or unauthorized power consumption reducers. With all of these responsibilities, searching for a qualified person to take care of your electrical services in Laredo requires a lot of effort. A person trying to improve their homes should not trust their electrical systems to inexperienced people, and should avoid DIY electrical projects for their own safety.
Hire a Licensed Laredo Electrician for Electrical Repairs
Whether it is home renovation or electrical repairs in Laredo, TX, people must get a qualified electrician to work for their homes. One important aspect to be checked is his credibility. Is the electrician licensed? Is the contractor a member to associations or guilds in the electric service industry? By inquiring about these things, you will be sure that the person you're hiring for the job is knowledgeable and professional. Even if it is a small electrical repair, having a licensed electrician to fix it is the safest thing one can do because their license is an assurance that they are highly-skilled.
You may also ask if the electrician has insurance that will cover damages in case of accidents because the job is dangerous and are unavoidable. Always remember that an apprentice is not allowed to do an electrical job alone. He always need the supervision of a licensed Laredo electrician and hiring them may cause problems not just for safety but also to the one who employed him since it is illegal. Check the state regulations too because there are a few states that do not require electricians to be licensed. Please report to the authorities if these cases occur to avoid possible dangers to life and property.
Another thing to consider when looking for a Laredo electrician is the feedback of people that have hired them before. Do they still recommend him? If he recently worked in the community, ask neighbors, relatives, and colleagues about the electrician's skills and work attitude. You can also refer to online reviews in searching for electrical repair companys in the area. Check out several websites before calling someone for electrical work or electrical repairs in Laredo.
Trusting homes to qualified electricians in Laredo, TX pays off. Safety is secured and damages will be prevented. Be careful in selecting and follow the reminders above to assure a successful home improvement project.
If you are looking for a Laredo electrician you can trust, then please call 956-796-1003 or complete our online request form.