Complete Electrical Panel Upgrades in Laredo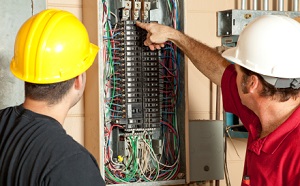 Are you looking to upgrade the electric panel in your home or business? The call RPi Electric. We are Texas's premier electrical contractor for panel upgrades in Laredo, TX. In addition to service panel upgrades, we also do electrical panel repairs, ongoing maintenance, and electrical instsallations for all types of residential and commercial properties in the Laredo area. Our electricans offer efficient service, industry-leading reliable work, and competitive rates that are affordable for your budget. Contact a Laredo electrician at RPi Electric today and discover the benefits of working with a professional that is licensed, insured, and state certified to work specifically on electric panels for both homes and businesses.
Is a Panel Upgrade Right For Your Home or Business?
One of the questions that you may be asking is whether or not your property could use a new electrical panel. Although not all homes need a panel upgrade in Laredo, TX, one of the main issues is how old your property is. For instance, if you live in a home that was built before 1960, and you've never had your home's electrical system inspected, then it's probably time to have your electrical service panel assessed. A proper electrical inspection will reveal how safe the panel is as well as how efficiently it's operating. An old panel could be costing you hundreds of dollars each year in energy bills. Call RPi Electric today to have your electric panel inspected.
If you're still wondering if you need a panel upgrade in Laredo, ask yourself the following questions:
Does it seem like your breakers trip every time you turn on microwave or use the hairdryer?
Do your lights constantly flicker back and forth from bright to dim?
Does it seem like your appliances struggle to get the power they need?
If it's becoming increasingly obvious that something isn't quite right with your electrical system, it's probably time for an electrical panel upgrade. Our Laredo electrical services company will be happy to do an honest inspection for you, and determine exactly what your electrical repair and upgrade needs may be.
The Benefits of Electric Panel Upgrades in Laredo, TX
With today's modern homes and advanced technology in electronics and appliances, the need for an updated electric panel is much greater. What a brand new panel allows for is expansion of your home's electrical system down the road. For instance, if you're looking to add a room or finally remodel that basement, a new electrical panel will allow for this transition with no problems at all. A brand new panel can also handle all the needs of your new electronics without the potential for power surges or breakers going out. You'll also experience a more efficient system with little chance for a fire or other hazard.
Laredo Panel Upgrades Done Right
One of the main things you need to remember when getting your electric panels upgraded is to hire a seasoned, professional electrician in Laredo, TX that is Texas certified and properly licensed to perform this type of work. There are two reasons for this. Only a certified technician knows about the current city, state, and national codes that have to be met during the installation process. This keeps you from violating any of these regulations and possibly facing a fine. This is especially true for business owners. The second reasons is that your insurance company will only cover work done by a licensed professional in the event of a disaster that is related to your electrical system. It's not worth the risk to save a few dollars with a DIY project or by hiring an amateur for panel upgrades in Laredo, TX.
If you need a panel upgrade in Laredo, please call 956-796-1003 or complete our online request form.